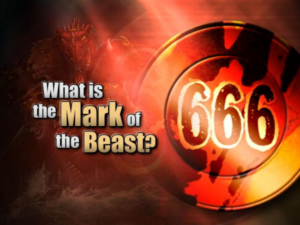 Margaret Starbird writes:
For anyone who saw Morgan Freeman's "The Story of God", please do not believe that "666" — the number of the beast" — is to be identified with "Caesar Nero." That theory is half-baked at best!
The number 666 is the ancient Greeks' (Pythagorean) equivalent of "Yang" energy in the extreme: "power without mercy." It is the power of the sword, the crocodile, the dictator, the predator in any form–including Nero, but also Caligula, the Roman Inquisition, Hitler, the holocaust, ISIL… and you get the picture. The Beast is "masculine-solar" energy stripped of its "feminine-lunar" counterpart — now rampant and uncontrolled.
The earliest Scriptural references of "666" are found in the Hebrew Bible: 1 Kings 10:14 and 2 Chronicles 9:13: "The weight of gold paid in yearly tribute to Solomon was 666 golden talents." Apparently "666" golden talents was a fitting tribute for a powerful king — a pure reflection of his status.
Using John Michell as a major source, I explain this pretty thoroughly in my 1995 title, Magdalene's Lost Legacy: Symbolic Numbers and Sacred Union in Christianity — especially in the two chapters about the Apocalypse (Book of Revelation) in that book: http://margaretstarbird.net/magdalenes_lost_legacy.html
peace and light,
Margaret
The Woman with the Alabaster Jar