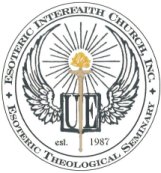 Become an Ordained Minister, or get ordained as a Rabbi
Have you always felt Called? Called to serve your fellow humanity in time of crisis? Or has someone asked you to officiate their marriage aka perform their wedding?
The Esoteric Interfaith Church, Inc. was founded in order to ordain people of all callings, all faiths, to become clergy. We have been ordaining ministers for the past 25+ years. Get ordained as a minister, rabbi, priest, or other clergy title that suits your spiritual work.
We also confer religious doctorate degrees for clergy such as Doctor of Divinity, Doctor of Theology (called the Th.D.), and several religious PhD degrees, such as the PhD in Religion, PhD in Metaphysics, Doctor of Sacred Music, etc.  Religious Masters and Bachelors degrees are available, too.