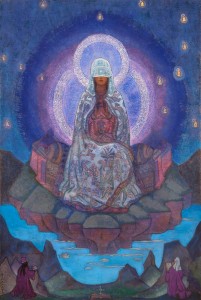 Yay. God-the-Mother is coming out more and more in various religions. The Mormons have always believed She existed, and a Heavenly Mother has been in their doctrine all along. But they have told their leaders not to preach sermons about Her (due to persecution, being called a "sex cult" back in the 1800s). Now that is changing. Pretty cool.
Mormons also believe Mary Magdalene was Jesus' wife. My daughters love hanging out with Mormon friends, one whose parents have prominent paintings of Jesus and Magdalene on the wall. (Painted by Mormon artists).
Here's a news article about the Heavenly Mother being increasingly mentioned by LDS (Mormon) leaders. It has an interesting Madonna-like picture of Her with a hidden face.
http://www.sltrib.com/home/4549096-155/meet-the-heavenly-parents-mormon-leaders
God Has a Wife! (and Goddess has a husband) — as we've been saying here on this website since 1999. Here's our 2006 God Has a Wife! slideshow for more images of Her…