If each of the seven days of Creation were an epoch — an Age – then maybe we are living in the 7th Day, the Day our Creator(s) rested?  No new life forms are being created during our era ("And on the seventh day He rested") unlike the previous 6 'days' when everything was created and evolved via millions of years. God is now perfecting his-and-her creation by resting, letting evolution proceed, and like the Great Scientist she/he is — observing.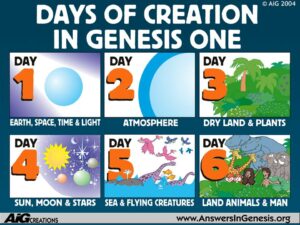 **I wonder what new age will begin after this 7th Day evolution testing / perfection era is over.  Esoteric Christianity teaches since the Greek Bible shows Jesus  resurrected aka awakened on the 8th day, this caused the earliest Christians to worship on Sunday instead of the 7th Day Sabbath of the Jews. Sunday was not chosen because it was the first day, but because it is the day AFTER the 7th Day, the New Age "Eighth Day". It was the day of awakening, of enlightenment, of evolution of consciousness.
The cool theory about earth's inhabitants currently living in Creation Week's "Seventh Day" is explained by astrophysicist Dr. Hugh Ross in his new book, Navigating Genesis.
Fox News' Lauren Green spoke to Ross about his search to bridge the gap between science and religion, beginning with finding the true age of Earth.
Ross says … there were three different definitions for the word "day" in Genesis one and two when describing day and night, as well as days and years.
"I realized that this word 'day' must have multiple, literal definitions…" …Those include part of daylight hours, all of the daylight hours, a 24-hour period, and a long, but finite, time period.
While there might be several interpretations in English, Ross says in biblical Hebrew, the language of Moses, "yom" is the only way to describe long periods of time.
"So I see no contradiction between the time scale and astrophysics and what I see there in the Bible," Ross said.
"No problem with the Earth being 4.5 billion years old and the universe 13.8 billion – it's consistent with Biblical texts that tell us the mountains and hills are ancient and aged-old," Ross said. "It's making it quite clear that we do live on a very old Earth."
Ross, who founded Reasons to Believe, suggests that the world's inhabitants are still living through the seventh day described in the Bible.
"We are living in that time period when God is not creating new life forms for example which we have reasons to believe is an opportunity to test creation, [and] evolution models," Ross said. "We can do real-time evolution experiments in biology to see if we see a difference between what is going on in the human era and what [existed] previous to the human era."
Watch the full interview with Dr. Hugh Ross above.
* * * * * * *
The author Dr. Hugh Ross is also an ordained minister
This kind of "esoteric" aka "inner" and hidden interpretation of the Bible gives our alternative clergy rich material to teach in their churches and synagogues. (Find out how you can become an ordained minister or rabbi and teach this stuff, too).