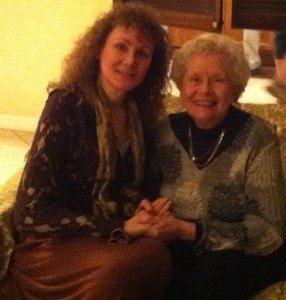 Spent yesterday with Bishop Carol Parrish, one of my spiritual teachers from the 1990s. Â She was consecrated an Independent Sacramental (Catholic) bishop a couple of years ago not long after my own consecration. Â The ISM is still the only "catholic" movement allowing woman-bishops and priests, although the Anglicans finally have a few. The amount of female bishops is growing in North America, even if it is not in the rest of the world. Now if only my other favorite teacher, Margaret Starbird, would let us make her an Independent Sacramental Bishop…. Â hee hee. Time to join the episcopate, Margaret!
I often long for a feminine form of the word bishop we could use (just like I long for more feminine vestments and especially miters for us!). Â In the Greek Bible the word for bishop is episkopo, right? So episkopa would be woman-bishop?
One of many things we talked about yesterday was the  Gospel of Mary Magdalene by Jean-Yves LeLoup which +Carol is currently reading.  It was a significant study for me and my own formation as a woman priest when I read it in 2004 — suggested by Margaret.  +Carol is just now discovering his work and says she really appreciates the way Leloup answers any naysayers and critics by putting the original text on one page, and the translation on the facing page. His translation and commentary are so inspiring.  I am going to have to go dig out my copy right now.
Bishop Carol is teaching a workshop tomorrow at the Temple of the Living God in St. Petersburg where she's been coming every year for the past 40 years, Â which is basically most of my life… Â She really is amazing the way she keeps on working decade after decade.