For esotericists, clergy and ancient wisdom practitioners, PRAXIS (spiritual practice) is everything. Here's a quick lesson from Eckhart Tolle teaching the spiritual practice of people watching. Fun.
Tolle addresses people looking back at us. As ordained clergy, teachers and/or public speakers we sometimes flip out when we think "all those people" will be "staring" at us. (laugh)
Tolle explains how to eliminate that fear by realizing — convincing your fraidy-cat brain — that "even the attention of 100 people doesn't add [or detract] anything to who you are in truth."
Who you are in truth. Right.
I also liked Tolle's point about dogs being easier to trust / love than humans because there is no big fat ego — human mind — in the way to clash with our own big fat ego!
From http://communicate.eckharttolle.com/news/2016/12/13/the-practice-of-people-watching/
The Practice of People-Watching 
A little spiritual practice I recommend is to go to a public place where you can sit and watch human beings, perhaps at a café or in the park. I call it "people-watching." The only difference between ordinary people-watching and this kind of people-watching is that your practice is not to attach any label or judgment on any human that you watch; you allow them to be as they are as they walk along or do whatever they do, and enjoy the incredible spectacle of the multiplicity of human forms.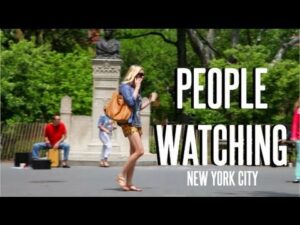 There is no judging as good or bad; just allow them to be, so the mind does not call them anything. You're there as an innocent observer. It's a beautiful thing; it even does something to the energy field where you are, where you're sitting. You bring in a different frequency, but that's a secondary thing. Don't start thinking, "I am here to bring in a different frequency…"; just be there an alert watcher.
As you do this, something amazing can happen: you begin to love other humans, which for some people is a difficult thing. It's easier to love a dog, for example, than a human, usually, because there's no mind to get in the way: a dog doesn't judge you; a dog has unconditional love. It's easy to love a creature like that.
But humans are different because they're often burdened by mental activity and thoughts, conscious or otherwise, like, "Who are you? What do you want? What does he want from me?"
So, the next step up, of course, is to watch people that you know very well in the same way—at home or wherever there's a lot of past that you share. And then be present, even with people with whom you share a lot of past. But at first I recommend limiting your practice to observing strangers, with whom you don't share any past. Next step up is you practice with relatives, friends, and family; just in little moments when you watch them without wanting anything.
Do it with your children, without saying, "you should be doing this; why are you doing that?" Just watch. You can also say, "yes, brush your teeth;" it's fine, but just watching is beautiful.
So, that's an enjoyable method for incorporating awareness practice into everyday life. I've been practicing people-watching for many years. And after a time, you begin to love everybody, no matter what they look like, because it's all the human form expressing itself in so many different ways.
You very rarely actually attract attention to yourself—which to the ego may not be such a great thing. There are two egoic states that could arise while people-watching: one is to want to be seen and the other is to be afraid of being seen. The purpose is going beyond both, and if people are looking, if you're not there as a thinking person—in other words, if you're there as presence—it doesn't matter if they're looking. It doesn't add anything to who you are nor does it detract anything from who you are; even the attention of 100 people doesn't add anything to who you are in truth.
To the ego it could be a great thing; many egos love attention, except for those who fear attention. So, if you are in a position where people are looking at you, again, to be still and present, you go beyond both the timidity of not wanting to be seen or the pride of, "oh, they're all looking at me." In ancient Greek mythology, Narcissus was a young man who saw a reflection of himself in a pool of water and became obsessed with his own reflection. That story speaks of the arising of the human ego. It's the image of who you are in your mind, which gets reinforced by others. It's ultimately a phantom. People-watching can help us go beyond the ego in everyday life.