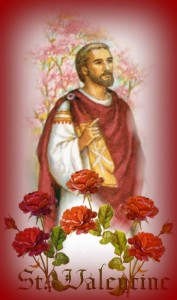 Jan 31- Feb 2 Imbolc also known as St.Brigid's Day – Old Celtic and Irish feast of Goddess Brigid; merged with the Christian feast of St. Brigid. Fires were lit to welcome Her as She traveled about blessing fields, animals, and people.
Feb. 2nd, Candlemas, "Purification" of the Virgin (exactly 40 days ago she had a baby, now she's "clean" again).
Feb 1-14 Old Greek festival of God Dionysos – in which vines were pruned and sprinkled with wine, accompanied by ritual singing and dancing.
Feb 7-8 Feast of Old Greek Goddess Artemis (Roman Diana) – as creatrix, midwife of birthing creatures, protector of the young, and punisher of child abusers.
Feb 13 – Feb 15 Lupercalia / St. Valentine's Day / Norse Family Festival – Old Roman festival (Lupercalia – Festival of the Wolf) of God-Goddess Faunus-Fauna, celebrating Pan, fertility, and the coming Spring; merged with he Christian feast of St. Valentine, celebrating love of all kinds.
Feb. 14 –  Gnostic Holiday of Saint Valentinus, founder of Valentinian Gnostic Teachings, who lived and taught circa 100 to 160 A.D.
-Feast Day, Kristian Goddesses of Love. See Litany to the Kristian Goddesses of Love