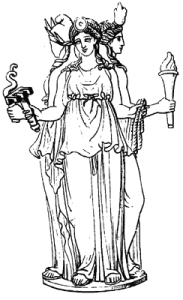 Jan 1 – Jan 31 January/Janus – Dedicated to Old Roman God-Goddess Janus – Jana, who knows both past and future.
Jan 2 thru 3 Feast of Old Greek Goddess Hekate / Hecate– who guides all through transitions and crisis.
Jan 3 or 4 Earth Perihelion – when the Earth is closest to the Sun. (It is farthest from the sun on the 4th of July). Peri means near, and Helion is for Helios, the sun god. The sun god is closest to us on this day, thus it is his "birth" day. We kind of have a sun-god / Light of the World birth "week", or "season" every year this time, if you haven't noticed, thanks to all the Festivals of Lights, Hanukkah, Yule, Christmas all based on the Winter Solstice of Dec. 21 and the Perihelion on Jan 3 or 4.  In 2015 the perihelion occurs at exactly: January 4, 2015 at 6:36 UTC (01:36 EST)
In January 2015, the full moon occurs on January 4. Most charts will tell you the moon is in Cancer when it goes full this month, but if you were to look in the sky you would see it's actually physically located in front of the constellation Taurus, not Cancer.  (Our Mystery School always uses Sidereal measurements, based on the literal star constellations)
Jan 6  Original Christmas Day.  Now January 6 is called Epiphany in the mainstream church, with January 5 being Epiphany Eve. In the original Church for the first 325 years of Christianity, January 6 was celebrated as Jesus / Yeshua's birthday. Then Emperor Constantine legalized Christianity, followed a few years later by making it the official state religion of Rome. He couldn't resist moving Yeshua's birthday to his own god, Sol Invictus' birthday. That was Dec. 25 on the Roman Calendar, which was the Winter Solstice back then, now  in our modern calendar taking place on Dec. 21. Many early Kristian churches continued to celebrate Jan 6 as Yeshua's birthday up into the 600's AD even though Constantine had changed the date. Some rare Christian sects still celebrate Jan 6, calling it "Old Christmas".