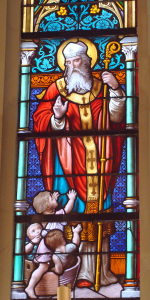 See our  Sundays of Advent page. Here's a traditional Advent Wreath "how-to" page.
Dec 1 – Greek / Roman Day of Pallas Athena / Minerva.
– Day for Meditation on Tantric Bodhisattva Goddess Red Tara – Protector against evil and harm.
Dec 3 – Roman Day of Cybele / Rhea – The Great Mother.
Dec 4 – Feast of Shango – Orisha who defends against evil.
Dec 6 – St Nicholas of Myra Day, patron saint of children & mariners, original Santa Claus, known for his love of children
– Mindfulness Day – Zen Buddhist day for mindfully seeing and acting with compassion for the poor and oppressed.
Dec 7 – Haloia of Demeter.
Dec 7 – 9   Feast of the Immanent Feminine Divine Spirit – Honoring Goddess as Maha Devi Shakti (Hindu), Holy Spirit Wisdom (Christian).
Dec 8   Rohatsu – Zen Buddhist celebration of the Buddha's enlightenment.