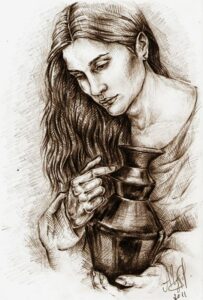 In honor of Mary Magdalene Day today, here is a video and an inspiring Magdalene story, both from author Margaret Starbird.
For Mary Magdalene's feast day on 22 July, you might be interested in viewing this interview I did in February 2006–nicely edited out of the "Bloodline" movie — http://www.youtube.com/watch?v=fEhMXUoMLGY&feature=youtu.be
Please keep in mind that I think the "bloodline" is a red herring and irrelevant to the underlying question of the marriage of Jesus with Mary Magdalene, a union that mirrors a model for Sacred Partnership, the "union of Sacred Complements."
You might also be interested in the information I've posted about the "Magdalene Rosary" as a tool for devotional meditation:
http://www.margaretstarbird.net/magdalene_rosary.html
All my life I've said the traditional Marian rosary, and occasionally still do, but in 1994 I was shown to create a rosary of seven decades of seven prayers to honor Mary Magdalene and the "Sacred Union." The number "7" is sacred to the Divine feminine, but is also the "union" of the traditional numbers associated with "masculine" (3) and "feminine" (4).
I wrote up the prayers and mysteries for the "Magdalene rosary" several years ago and posted the information on my website. The mysteries include 7 Scriptural Mysteries of Mary Magdalene and 7 Legendary Mysteries.
* * * * * * * * * * * * * *
On the eve of Mary Magdalene's feast day, I want to share with you a slightly abridged version of the epilogue from my book, Mary Magdalene, Bride in Exile
Epilogue –a Reading for Mary Magdalene's Feast Day
WHO DO WE SAY SHE IS?
"Who do you say that I am?" (Matthew 16:15)
When Jesus asked his disciples, "Who do men say that the son of man is?" they replied variously that some people thought Jesus to be John the Baptist; others claimed he was Elijah or Jeremiah or one of the other prophets. Then Jesus queried them further, "Who do you say that I am?" And Simon-Peter replied, "You are the Christ, the Son of the Living God" (Matthew 16:16).
There were obviously many varying views about Jesus even in his own time, and there are many still. Some people see Jesus as a historical figure, a Galilean rabbi with a staff in his hand, an itinerant preacher and healer. Some see him as a cultural revolutionary, even a Zealot or an Essene. Finding negligible evidence for Jesus as a historical figure, others think he was the composite of many myths of the son-god tortured and sacrificed at the vernal equinox—an Adonis, Ba'al or Tammuz, Dionysus or Osiris.
Similarly, we have a variety of views about Mary Magdalene, both traditional and heterodox, expressed over two millennia in Christian art and lore, as well as her connection to a number of powerful myths from the ancient world. I am aware of the most ancient tradition of the Church that the title "h Magdalene" was given to Mary, the sister of Lazarus–not referring to a town destroyed for its immorality, but as a title of great honor and prophetic significance. We contemplate her presence in art, artifact, and folklore. And we examine the record of the historical Mary Magdalene, who allegedly witnessed the resurrection of the Savior and was sent to tell the good news to the other disciples and to the brothers of Jesus. And we have studied legends and myths of the bride of the sacred king sent defiled and defamed into exile to protect her from the dangerous talons of the malevolent dragon.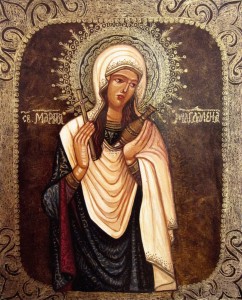 And who do we now say that SHE is? Was she an actual historical person? A disciple of Jesus, shod in sandals? A wealthy patroness? Perhaps a princess in her own right? Or was she a whore? Or even, as the Gnostics taught, a mythic incarnation of the Holy Sophia? Was she the soul-mate and spouse—the "Sister Bride"–of Jesus in a union similar to that of Tammuz and Ishtar or of Isis and Osiris? Or was she perhaps a sacred prostitute, a priestess representative of the Goddess? Was she a frenzied redheaded demoniac? A favored daughter of Benjaminite lineage? Was she, like Wisdom herself, both scorned and beloved? Could she have been a wife and a mother? How can we know which face is hers, when no one has lifted her veil?
The struggle to reclaim the real Mary Magdalene remains fraught with danger. Will we—once again—refuse to recognize in her an incarnation of the Divine, the other face of God? An important question remains to be answered: What position will the Mary called "the Tower" occupy when she is reinstated—as she must be—in the celestial throne room in heaven and in our communal psyche on earth? Will she be honored as apostle or as Bride?
Will she be blessed and embraced as the historical counterpart of Peter? Or of Christ?
Who do we say that she is?
One answer, that she was an apostle equal in status and authority to Peter, seems to satisfy many clergy and scholars of Christian denominations. The right-handed and orthodox affirm Magdalene as the Apostle to the Apostles—a title of considerable honor, although her role was apparently short-lived, given that she carried a single message to the brethren of Jesus on that first Easter morning, and that her testimony was not at first believed. Modern scholars seem content with their proofs that Mary was not a prostitute and with reclaiming for her a position of prestige and authority as the first witness and messenger of the resurrected Lord. It is a limited role.
But the other answer, confirmed by left-handed intuitives who see visions and dream dreams, asserts that Mary Magdalene was the Sacred Bride so long exiled from our consciousness. This vision of the sacred reunion of the beloveds is not new. The image of the holy braiding of flesh and divinity was always at the heart of the gospel—God incarnate in flesh, both male and female.
Reclaiming Mary as Bride brings water to heal the parched earth, causing flowers to bloom, healing broken hearts, setting prisoners free.
If we ever needed her, we need her now!
In Memory of Her,
Margaret
Mary Magdalene, Bride in Exile