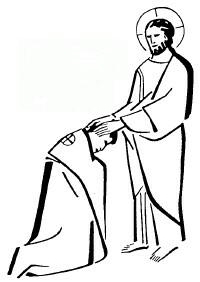 The Pope's visit to the United States caused a sudden increase of interest in our priesthood ordination. The Seminary ordains both women and men to the sacred priesthood. Our bishops have full Apostolic Succession.
Too bad the official Roman Catholic Church has not come around to ordaining women priests, they are still sticks in the mud about that, and don't allow priests to marry. But our liberal catholic church, part of the Independent Sacramental Movement (known as the ISM) does indeed ordain women and men, and celibacy is not required — just as it was not required in Jesus' early church.
We also ordain "regular" ministers, pastors and chaplains, such as Interfaith Minister, Spiritual Minister, etc.  Ministerial ordination is much quicker than priesthood ordination.
P.S. I thought it was a sad today that metal detectors had to quickly be installed at every Central Park entrance due to fears of terrorism during the Pope's visit. Bummed me out thinking of Central Park — such a world famous place, a family fun place, filmed in so many movies — with metal detectors and long lines of people taking off their belts and cellphones. I guess baby carriages and strollers won't be allowed in now? Hopefully they will take them down after the Papal visit ends.