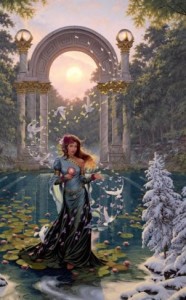 See the list below of esoteric alternative holidays this week.  Several are Divine Feminine holy days. We see Sky Woman, and Maha Devi, not to mention the return of Persephone, aka her ascension back from hell bringing the Return of Spring with her (pictured right). This painting used to be called simply the Return, but now it's called the Awakening.  I like both since the latter implies a spiritual awakening alongside the physical "awakening" of the fertile mother earth.  Below are the rest of the holidays — Buddha's birthday is cool this time of year, too.  And be ready for the Goddess of Fate day on the 5th! May Fortuna Smile Upon You, was the ancient Roman greeting…
April 1 thru 4  – Iroquois Thunder Ceremony – In thanksgiving for the rains. Iroquois believe Sky Woman descended from the Sky and Created Earth.
April 2 thru 10  – Hindu Festival honoring Maha Devi as Gauri – life, growth, and fruition.
April 3  – the Ascension of Persephone
–  Buddha's Birthday  563 BCE (Although the Zen Buddhists celebrate his birthday on the 8th of April)
April 4  – Greek Megalesia of Cybele – Games dedicated to the Great Mother (Greek).
April 5 – Roman Day of Fortuna – Goddess of Fate (Roman).