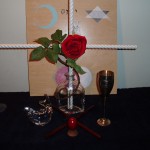 July 22  Mary Magdalene Feast Day – the Holy Grail.  Official Christian feast of St. Maria Magdalen, both Catholic and Eastern Orthodox.  Some Magdalene devotees such as those in our Order of Mary Magdala, bake Madeleine cakes for the Queen of Heaven in honor of her day. Madeleine is a French form of Magdalene. Here is a good recipe for Madeleine cakes, and you can read about the history of Madeleine cakes here. Our Magdalene initiates and ordained priestesses wear red, white and green today, and light candles of those colors, the colors of Mary Magdalene. We display our red altar egg on Magdalene Day and recite litanies dedicated to her.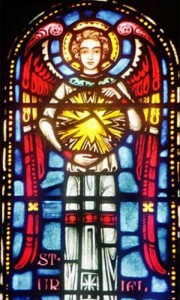 * July 28 Archangel Auriel (Uriel) Day.  His/Her name means "Fire or Light of God," and titles include, Regent of the Sun, Angel of Music, Patron of Prophecy, Archangel of Salvation, Angel of the Presence. See Uriel.org  for more about him/her, the crystal egg association, and paintings.
July 29 – Festival of Thor – Celebration of Norse God Thor
July 31    – Lammas, harvest festival coming 40 days after Summer Solstice, offer 1st fruits to the Divine (See Aug. 1)
– Festival of Loki – Day to honor Norse trickster god Loki and his consort Sigyn
July 31 thru Aug 2 – Lughnasadh – Old Celtic / Irish Feast of Goddess Tailtiu and God Lugh (Deities of Life and Light), celebrating the grain harvest.