Archangel Gabriel is depicted here as his female counterpart, the little known Gabrielle (or Gabriella). Every angel has two parts, male and female, just like the Divine Godhead. Or you could look at it this way: God can be related to as beyond gender or as both male and female, or as Divine Source, beyond all gender, but from whom all genders radiate. The angels come in pairs, male and female made he them, just like "he" made humans.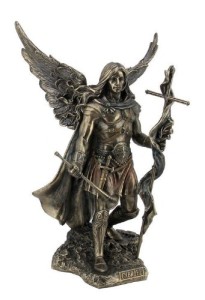 Click to see picture of Female Archangel Gabriel bronze statue on Amazon
Here is the Male Version of Archangel Gabriel (pictured)
The Archangels are the captains of all the angels, having been created as the foremost hierarchs in the angelic kingdom. They are majestic beings who personify divine attributes and are at the service of the mankind of earth. They work tirelessly to defeat evil and promote good. Archangel Gabriel, who's name means "Hero of God," is the bearer of GOOD NEWS as the voice of God. This archangel is a messenger who whispers in our ear of coming events, changes, and opportunities for new experiences He restores life and light into stagnant areas of your life such as relationships, businesses, households, etc.  Although angelic beings are genderless, Gabriel is the only Archangel who has occasionally appeared in a distinctly female form. This bronze look statue of Archangel Gabriel in female form has hand-painted accents, and shows exquisite detail. Gabriel stands prepared for battle, with removable sword in hand. The statue is 12 1/2 inches tall, 8 1/2 inches wide and 4 inches deep. Made of cold cast resin, it has the look and feel of bronze.This statue makes a great gift for family and friends. It is brand new, never displayed. We have a limited number of these, so don't miss out.