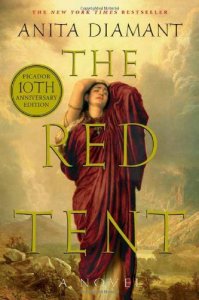 The Red Tent — one of the books used in our Mystery School studies since 2001 — has become a TV movie.
It airs this Sunday night on Lifetime Television — (channel 108 on Dish TV).  We just set our DVR to record it.  I wonder if it will mirror the book nicely.  The trailer was awesome.
I also wonder if they will correctly pronounce the name of Dinah, the lead character (pictured right).  In ancient Hebrew it would be "DEE-nah".
Some portions of the book I didn't agree with, such as the way Rebecca and Laban were portrayed. But the overall story of the book, highlighting as it does the pagan roots of Judaism (and thus of Christianity) is very gripping.
I hope some of you Mystery School members will watch it with me. The TV movie will probably become available on Amazon streaming video and Netflix in 2015, so if you miss it the first time it airs, you can always watch it elsewhere in future.