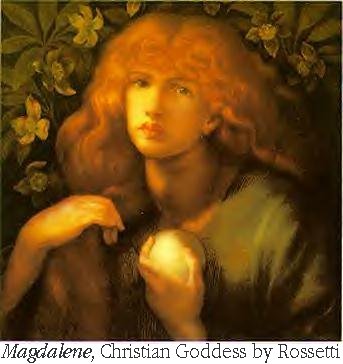 May 24 – Day of the Three Maries (special to Mary Magdalene and Grail Christianity)
Margaret Starbird writes: On May 24th, the feast day of Saint Sarah — the dark refugee child known as "Sarah Kali" celebrated at Les Stes.  –Maries de-la-Mer– I'll celebrate by doing an interview about Mary Magdalene and reclaiming the Lost Bride of the Christian story…. Here is a link to the program, you can listen to the archive.
Other May 24 alternative Holidays:
– Feast Day of Hermes Trismegistus
– Celtic Festival to the Three Mothers
– Greek Celebration of the Horae
May 25 – Assassination of Edmund I (Anglo-Saxon)
– Celebration of the Tao, Mother of the World (Chinese, Japanese)
May 26  – Festival of Diana begins (ends 31st) (ancient Roman holiday)
– Dakinis' Day – Day Tantric Buddhists make offerings to Mother Tantra; day to unite will and power to manifest positive social change and environmental healing.
May 30 – Frigg's Day, Northern Goddess, spouse of Odin (Teutonic "heathen" European pre-Christian holiday)
– Feast of the Queen of the Underworld Begins (Roman)
– Feast of the Queen of Heaven (European)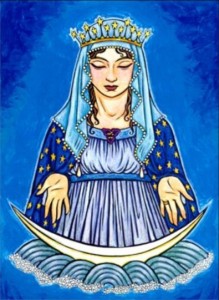 May 31 – Feast of the Triple Goddess – Marking the transformation of the Virgin into the Mother.
– Feast of Stella Maris – Venus, (and Asherah) as Star of the Sea. Mother Mary was later given the title Stella Maris