Judaism has a star for its symbol. Every time you see someone wearing that star around their neck, you know they are Jewish. Muslims have a star AND the crescent moon as their symbol, but I don't know if they wear it as a pendant. What do Christians have? — an execution device. We wear crosses around our necks "so people know I am a Christian" I told my young daughter today. She frowned. I know, I know, it's odd to wear an execution symbol, I added. Technically I doubt Jesus likes our choice of that symbol, he'd probably prefer the ancient fish symbol. But because of thousands of years tradition, wearing a cross is the only symbol we have to clearly designate our spiritual choice. Some people don't feel a need to make an outward statement of their allegiance to their God/Goddess, but I am not one of them. I am stuck with this notion that my Creator, my Deity, deserves my courage to wear my beliefs on my sleeve (sorry for mixed metaphor).
My daughter paused and said, "I wish we had a star or something like that from the sky for our symbol, too."
I said, "The Jews chose a star and the Muslims added the moon to that so they use a moon and a star. All that's left for us to use is the sun."  The sun, of course! I thought inside my head. How fitting since Christianity was long called a Solar Cult. How amazing the sun, moon and stars could basically sum up all three desert religions if Christians hadn't obsessed over Yeshua's death for our sins. On Winter Solstice I had just explained to this same daughter (ironically as she lay in her hospital bed) and later to the other two daughters how Jesus's birthday is equated with the Sun's annual "birthday." This dark time of the year — she had noticed the sun going down "so early" out her hospital window — is when people all around the world look for the Return of the Light. Yeshua was called the Light of the World, etc. I didn't go into the Sol Invictus stuff with Constantine and the details behind Jesus' birthday change, the 12 Apostles being like the 12 houses of the Sun, nor the other evidence we are at least in part a solar religion.
We teach the solar nature of Christianity in our Mystery School with the help of books such as Jesus Christ, Sun of God: Ancient Cosmology and Early Christian Symbolism. I am not sure if we also ask our seminarians pursuing Holy Orders to read that book.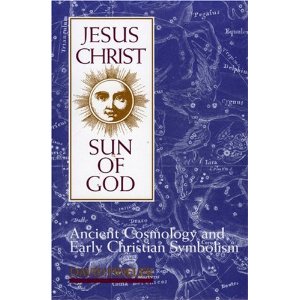 If we started wearing suns around  our neck everyone would think we worshipped Apollo or Helios, though, eh? Hmmm, that reminds me: Helios is pronounced Elios with "El" — the same God-name used by ancient Hebrews and earliest Muslims (El and Al-ah). But don't get me going on another tangent…it would be too much fun, I love this topic.